Landeros Roofing Solutions
Address:
1680 Hurley Court
,
95376
,
Tracy
(
California
)

Wrong data?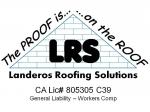 More information on Landeros Roofing Solutions
One of the 'good ole boys' in today's business world, I adhere to the simple principles of hard work and integrity, fair prices, excellent customer service, and quality installations. Serving homeowners, property managers, and realtors for over 25 years, I specialize in roof and gutter repairs.